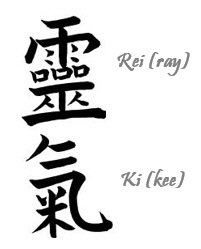 Introduction to Reiki
Reiki is a Japanese word written with two Japanese kanji meaning 'Spiritual Energy".
"Rei" translates to spiritual or sacred.
"Ki" translates to energy.
You cannot see energy, but all things consist of energy.
Reiki is also the word that refers to a Japanese spiritual and healing practice, the system of Reiki.
The system of Reiki was founded by Mikao Usui in Japan in the early 1900s. This system consists of five elements and was developed to help people to heal and find enlightenment, peace, wholeness -- inside and out -- so that they can share that peace and enlightenment with others.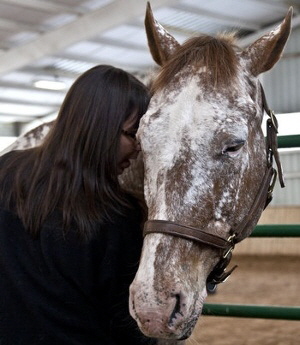 Connection

Reiki Is...
Gentle and effective

Non-Invasive

Safe

Preventative Therapy

Complementary to western medicine
Reiki is not intended as a substitute for the advice,
diagnosis or treatment of a veterinarian.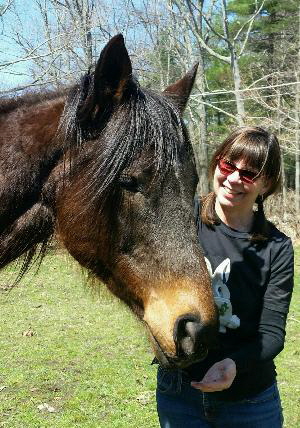 Osito, a Big-Time Lover of Reiki

Benefits
Reiki promotes the health of the physical, mental, emotional, and spiritual energies of the animal. Reiki encourages healing to those who are sick and helps to maintain an overall well-being for those who are healthy.

Emotional upset such as fear, stress, anxiety, loss, conflict, abuse, or an accident or injury can disturb the energy paths of the body. This can result in pain, illness, disease, or weakness.

Reiki promotes deep relaxation, strengthens and replenishes the flow of energy, which in turn can decrease pain, ease muscle tension, bring peace of mind and body, and increase rate of recovery from injury. The immune system becomes stronger, the body is better able to heal itself; the result -- harmony, balance, health. inside and out.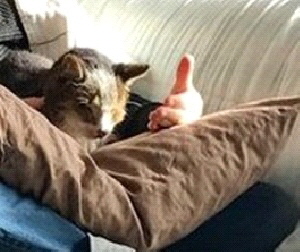 Benny soaking in the Reiki light.
The Animal Reiki Session
Because animals feel more comfortable and relaxed in their own environment, I offer Reiki treatments in barns/stalls/paddocks for the larger animals, and in the homes for smaller animals. I provide a safe, calm and healing space for the animal, with the intent that the animal receives whatever he/she needs at that moment.

In a typical human Reiki session, the Reiki practitioner leads the session, using a variety of hand positions, either on or directly above the recipient's body, with the goal of facilitating the body's own healing response.

In an animal Reiki session, the goal is the same; however, the animal is in charge of the session and determines how he/she wishes to be and connect with the Reiki energy. The animal may choose to receive Reiki from across the room or pasture, one foot away, or the animal may position a certain part of the body in my hands or lap. I will respect the animal's decision to move or walk away during the treatment; therefore I prefer to have no physical ties (leashes, lead ropes, cross ties) between the animal and me.

I will listen to and observe your animal's response to the Reiki healing energy. I will offer Reiki to your animal for as long as your animal wants it. It may be 15 minutes or an hour. Your animal will let me know when he/she has received enough Reiki. I will trust and respect your animal's decision and end the treatment.
| | |
| --- | --- |
| Equines and | $60 per session |
| Other Large Animals | $225 for 4 sessions |
| | |
| Dogs, Cats, and | $45 per session |
| Other Small Animals | $165 for 4 sessions |
| | |
| Distant Treatments | $30 |

In most cases, your animal will need more than one treatment to minimize or resolve an issue. Chronic conditions, for example, take quite a while to present themselves in the body; therefore, it will take some time for the body to heal and lessen or resolve the condition. Reiki is a gradual process. Progress and follow-up will be discussed with the guardian at each visit.



Travel Fees


An additional fee for locations outside of a 20 mile radius of Bolton, MA will be charged. This fee may be divided among multiple clients at the same location.



Policies


Sessions may be pre-paid or paid at the time of service.
Cash and checks are accepted.
Please honor my cancellation policy of a 24-hour notice.



Gift certificates are available.
Thank you for bringing peace to our horses.
Terry S.
Thank you for taking the time and the effort to convey your observations of the Reiki sessions with the horses. It was so cool to read that you get what the Reiki energy is all about...about being, relaxing, and giving the mind, body, and spirit some down time to heal. I do feel that the positive changes in the herd are due to many factors ~ your care, and changes within their nutritional and environmental needs, the Reiki energy, and a reduced work schedule with time off. It is so wonderful that you are there to help and support the horses to become a happy and healthy herd! It is a challenging task and you are taking it head on. Thank you!
Lauren, BINA Farm